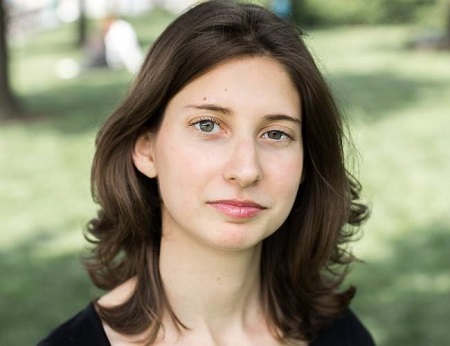 © Dan Masso
Emma Kantor is a Brooklyn-based writer and deputy children's book editor at Publishers Weekly. Her essays and humor writing have been featured both online and in print by The Belladonna, Hey Alma, Pigeon Pages, Points in Case, and Little Old Lady Comedy, among other outlets. Her interests include Italian language and literature; film; and comedy (writing and performing).
The Whole Spiel
Emma Kantor serves as Deputy Children's Book Editor at Publishers Weekly, the trade news magazine targeted at publishers, librarians, booksellers, and literary agents. Her main responsibilities include co-editing and producing Children's Bookshelf—the twice-weekly e-newsletter dedicated to kids' and young adult publishing news—and contributing features for the magazine, both online and in print. She's also the editor of the twice-monthly School & Library Spotlight newsletter for K-12 teachers and children's librarians.
In addition, Emma is the voice of the PW KidsCast podcast and a host of Books on Tap Live, interviewing children's authors and illustrators about their new books. As part of her position, she attends and reports on industry events and trade shows, including the Bologna Children's Book Fair in Italy.
Previously, as Publicity and Digital Content Manager at the Children's Book Council and Every Child a Reader, she oversaw all PR and social media campaigns for the trade association and its literacy initiatives.
She graduated cum laude and Phi Beta Kappa from Vassar College, with a degree in English and Italian. She's also a graduate of the Upright Citizen Brigade's Advanced Study Improv program.
Emma's essays and humor writing have been published both online and in print by The Belladonna, Funny-ish, Hey Alma, Jane Austen's Wastebasket, Little Old Lady Comedy, Pigeon Pages, Points in Case, Tears for Toons, the Airship (Black Balloon's late lit blog), the Book Report Network, the Madison Journal of Literary Criticism, and the Journal of Italian Translation, among others. She has workshopped with Michele Filgate and Alisson Wood at Sackett Street Writers' Workshop in Brooklyn, NY.